Our Success Stories in Doha, Qatar
With our pet rehoming services, The Veterinary Surgery in Doha has succeeded in finding homes for dozens of unwanted pets over the years. Here are some of our favorite success stories:
Adara
Brought to The Veterinary Surgery as a kitten, Adara developed an eye problem that also affected her lungs. She was cute and gentle, but the chronic condition made her sound like a little pig. In addition, she had a teary eye and an unusual breath odor, but fortunately, none of her symptoms were painful. She was very frightened to be in our care at first, so it was difficult to find her a home. Because of her eye condition and shy nature, she didn't rank high on the "most adoptable pets" list.
One day, we decided to keep her at the reception area with everyone around her so we could socialize her day by day, and we succeeded! She became fearless, very "talkative," and above all, she was pleasant with everyone—humans, cats, and even dogs. Adara became the perfect partner, so we let her run around the clinic by herself. She never ran away; she always stayed with us and introduced herself to every single client who came in. Then, one lucky day, a family met her and really loved her, so they asked if they could take her home. We decided to accept and let her part from us, even though we knew we were going to miss her. She is now happily rehomed with a lovely family and is free to play wherever she wants. We'll miss you, Adara!
Bandito
This adorable young dog was abandoned with an injured leg in front of our clinic. We took Bandito inside, treated his wound, and fed him. He was healthy and a little scared at first, but very sweet and even well trained. We decided to give him a chance and try to find him a perfect home. Although Bandito was very good with children and well behaved, we were unable to rehome him right away. Three months later, a nice man came in, saw Bandito, and decided to take him. He wanted his children to see the dog as well, so he brought them in the following week, and they all adopted him without hesitation! They all love him as much as we loved him and are very happy to be able to care for him. We still see Bandito from time to time, which is always a pleasure, and we are happy his story had a happy ending.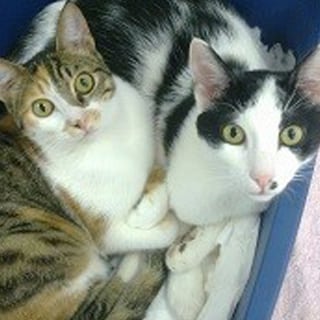 Bianca & Dhali
When they were two weeks old, Bianca and Dhali were found in a parking lot by a very nice couple. Full of hope, the couple took the two precious kittens home, but they were not permitted to keep pets where they lived. Broken hearted, the couple asked us to help them. We decided to try to rehome them both together and promised to do our best to make that happen.
Unfortunately, after five months at the clinic, there was no one who could adopt them both. We were faced to make a decision: either rehome them separately or release them together. We chose the first option and worked hard on their adoption. Not long after, we found a very nice family for Bianca, and she is now happily jumping around the house. With Dhali, a young lady (a cat lover who already had a cat of her own) couldn't resist taking him home. Her other cat was jealous for a few days at first, but he eventually accepted him as a new brother. Both Bianca and Dhali are doing perfectly fine now, and it was our pleasure at The Veterinary Surgery to take care of them. We are very happy for them and for their new families!
Frankie
Frankie arrived at our clinic with eyes full of innocence and kindness, looking for a new home. We took care of her for eight months before two families adopted her, but they ended up bringing her back to us because they felt she needed too much attention. Desperately seeking a forever home for Frankie, we got our miracle! A young lady came in one day, looking for a puppy to adopt. Instead of showing her puppies as she requested, we introduced her to Frankie and explained her situation. Then we left them alone together to get to know each other, and the young lady sincerely fell in love with Frankie. She felt that Frankie was truly a sweetheart in need of a caring family, so she adopted her and welcomed her into her home. Frankie found her forever home, complete with a big garden and two partners to play with! We couldn't have asked for anything better for her. All the best to Frankie!
Nelson
After he was hit by a car, Nelson was found on the side of the road by a staff member. When he arrived, he was suffocating, and his left eye was completely out of its socket. Brought to the clinic as an emergency patient, we immediately performed surgery to remove his eye and treat his other injuries. Once he was healed, we tried to find a good home for him. Very sweet and "talkative," Nelson became part of the clinic's team, meowing at everyone he met. But sadly, no one adopted him though, so the staff member who found him decided to take him home to be her 22nd cat! He has since gained weight and confidence and has become very playful! We're so grateful to this staff member for her kindness and selflessness in taking Nelson home.