Meet Our Veterinary Team in Doha, Qatar
To provide your pet with high-quality, compassionate veterinary care, The Veterinary Surgery is equipped with a team of experienced, professional veterinarians. You can learn more about them below.
Dr. Samad Khan
DVM (USA, Canada, New Zealand & Qatar)
Dr. Khan has been the practice manager of The Veterinary Surgery since 2010 and has over 15 years of experience in small animal veterinary medicine. He especially enjoys working with internal medicine and cardiac cases. He earned his Doctor of Veterinary Medicine in India, where he also earned a gold medal for graduating at the top of his class, and is licensed to practice in Ontario, Canada, and Illinois, United States.
To stay current on the latest updates in veterinary medicine, Dr. Khan attends various veterinary conferences every year, including the American Veterinary Medical Association (AVMA) and World Small Animal Veterinary Association (WSAVA). His love and passion for animals has led him to countless memorable experiences in the field, including treating cheetahs occasionally. He has worked in almost every field of veterinary medicine, including bovine, equine, small animals, exotics, and poultry.
Dr. Khan is married with four children and has a white Persian mix cat named Panda and hospital rescued cat named Demi a three legged cat. In his spare time, he enjoys reading, running, cycling, and being a handyman. He also enjoys working with computer hardware and software.
Dr. Valentina Fresta
BCVs, MD. (Italy)
Dr. Valentina is from Italy and she has been working as a Vet since 1999 in the field of small animal. She has been working abroad since the last 10 years travelling across the UK, AbuDhabi, Qatar and Oman. She has focused her studies in Abdominal Surgeries, Internal Medicine and Critical Care. Dr Valentina is an enthusiastic practitioner with determined will. Dr Valentina loves studying foreign languages during her spare time. Travelling and meeting diverse culture around the world is her second passion after animals.
Dr. Stephen Healy
MVB (Dublin)
Dr Stephen is an Irish vet. He qualified with honors in 2009 from Dublin School of Veterinary Science. He has worked in Ireland, the UK, and Australia in veterinary mobile practices, veterinary hospitals and emergency centers and also in animal shelters and charities in South East Asia. His special interests now are small animal medicine and dentistry. Alongside cats and dogs, he has a special love of rabbits.
Dr. John Warren
BVetMed/MRCVS (UK)
Dr. Warren joined our team as a veterinary surgeon in January 2008. He earned his Bachelor of Veterinary Medicine degree (BVetMed) from the University of Cambridge and is a member of the Royal College of Veterinary Surgeons (MRCVS). He chose to pursue a career in veterinary medicine because of his love of animals, science, and problem solving.
After working as a veterinarian at The Veterinary Surgery in Doha for nearly a decade, he has come to enjoy the great unknown aspect of what will come through the door next. He also loves the help and dedication of the support staff and seeing animals that have been extremely sick return to a healthy and happy state.
Dr. Warren is married and has two children. He also has six cats and a dog named Maafi Mushkila. In his spare time, he serves as the chairman of Doha Singers and enjoys acting in musical theater with the Doha Players and playing a number of different sports. He is also a big James Bond fan.
Dr. Daniel Kidd
DVM (Ireland)
Dr. Kidd began working at The Veterinary Surgery in August 2015, with specialties in internal medicine and surgery. He earned his Doctor of Veterinary Medicine degree from University College Dublin in Ireland and also passed the computer-based licensing program, The National American Veterinary Licensing Examination (NAVLE).
He chose to become a veterinarian because he loves making a difference and improving the lives of pets and people. He especially enjoys treating sick animals and seeing their recovery, working with various species, and meeting people from all over the world. To stay current with the latest in veterinary medicine, Dr. Kidd has completed various continuing education courses at the World Small Animal Veterinary Conference and the British Small Animal Veterinary Conference.
When he's not caring for pets at work, Dr. Kidd cares for his own pet, a Labrador. He also enjoys socializing, reading, playing the guitar, cooking gluten-free foods, and exercising—especially running. In fact, he once ran a marathon in New York.
Dr. Florian Debu
Dr. Florian Debu originally hails from Brasov, Romania and finished his DVM studies at the University Of Bucharest in 2003. He owned and managed his own veterinary practices in Brasov, where he focused on training new veterinanians how to approach and work with small animals. Additionally, he has worked extensively throughout Europe for the Millions of Friends cat and dog shelters. Dr. Florian also has substantial experience in the Gulf region, having practiced in private clinics in the UAE, and has worked in Doha since 2015. His specialties cover preventative medicine, diagnostics and surgeries of small animals including cats, dogs, birds, and exotics, such as ferrets, hedgehogs, and reptiles of all kinds.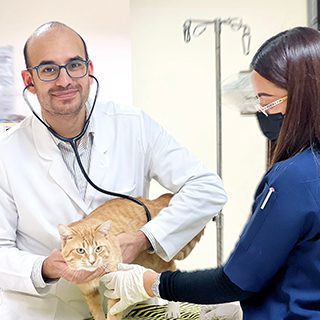 Dr. Haseeb Ashraf
BVetMed MRCVS (UK, Australia, Panama, Qatar)
Dr. Haseeb is from the United Kingdom. Born in London and raised between Pakistan and London. He is a graduate from The Royal Veterinary College in London, class of 2009. Dr.Haseeb started his career as an equine (horse) veterinarian. His focus was racehorse management and breeding. This work allowed him to travel extensively within the United Kingdom, Australia and South America.
In the interest of a better work life balance, since 2015 Dr.Haseeb shifted his focus to practice exclusively with companion animal pets; dogs, cats, small furries (Rabbits, Guinea pigs and Chinchillas). His main areas of interest are surgery predominantly ultrasonography, soft tissue and emergency medicine.
Outside of work Dr.Haseeb enjoys cooking, clay pigeon shooting (you may spot him at the Lusail shooting range) wood work and swimming.